Back
THE SUKHOTHAI BANGKOK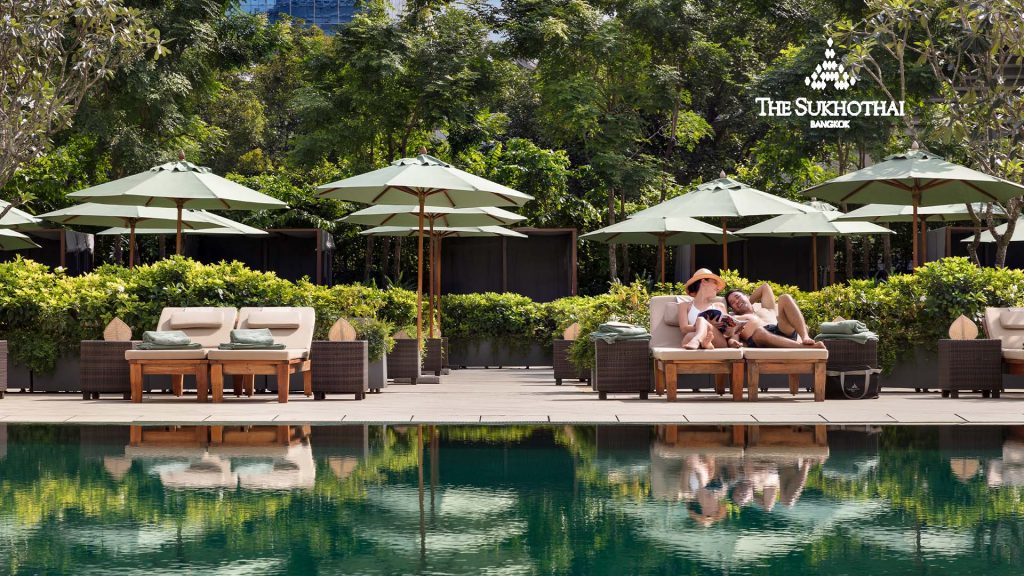 Exclusive benefits for RBSC members receive an additional food credit voucher at THB 1,000 net when applying for the Sukhothai Platinum Membership at THB 11,900 net.
Become A Member Now! 
The Sukhothai Platinum is the most lifestyle-incentive programme to help make the most out of your visit to this urban oasis in the heart of Bangkok. Members can enjoy our exclusive benefits of great value plus dining discount up to 50% only THB 11,900 Net for a yearly member.
Complimentary one-night stay including breakfast for 2 persons
Complimentary Sunday Brunch for 1 person
Credit voucher total THB 8,000 for Food & Spa
All privileges are yours for just THB 11,900 Net!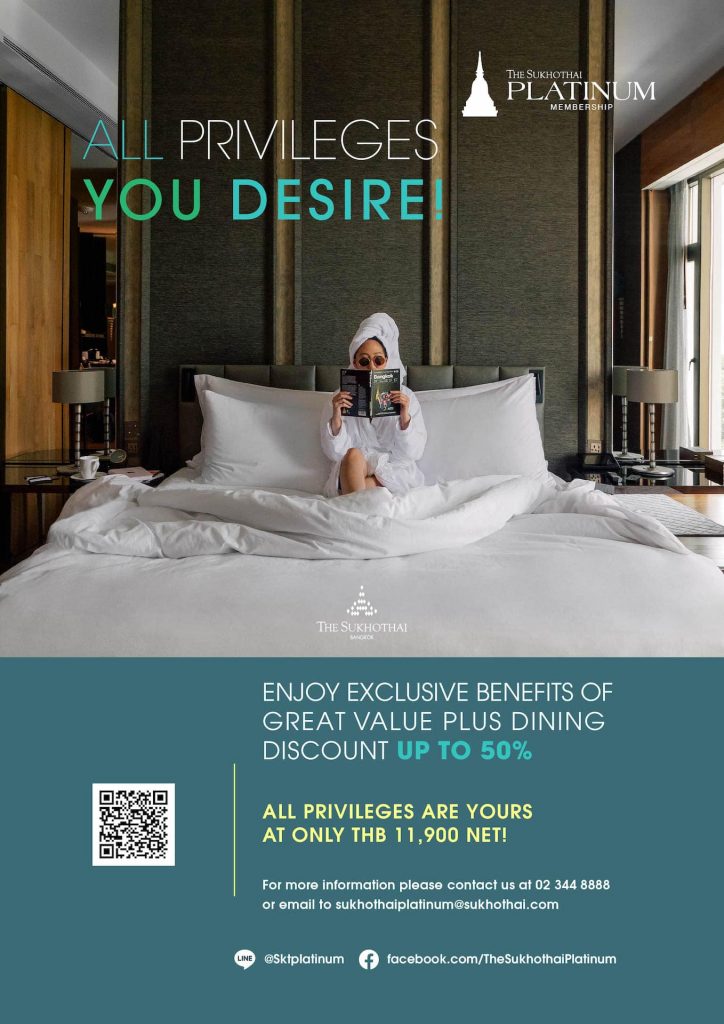 Terms & conditions
Valid until December 31st, 2023.
Mention that you are a member of RBSC or RBSC Polo Club and present your membership card upon application.
Only one (1) membership or discount may be used per table, visit, party or bill.
Only one (1) e-certificate or discount may be used per table, visit, party or bill.
No parts of the membership can be sold or resold by third party.
Membership benefits are valid until the expiration date stated.
The Sukhothai Platinum Membership must be mentioned when making a booking and must be presented upon arrival at the Hotel.
The Sukhothai Platinum Membership has no cash value and remains the property of
The Sukhothai Bangkok.
The Sukhothai Platinum Membership is non-refundable, non-transferable and expires within one year of the application date.
The Sukhothai Bangkok reserves the right to add, modify, delete, or otherwise change any of the rules, procedures, conditions, and benefits pertaining to the Programme at its sole discretion, without prior notice.
Use of all E-Certificates is subject to prior reservation, availability & E-Certificate validity.
E-Certificates & Membership benefits are not valid conjunction with any other promotions, discounts and offers at The Sukhothai Bangkok.
Room Rates must be booked through the hotel website or directly with the hotel. A valid membership must be presented upon check-in to receive benefits. All requests are subject to availability and other restrictions, and cannot be combined with any other special offer, promotion, discount, or certificate offer.
Accommodation bookings are subject to advance reservation, availability & Hotel room allotment policies.
Membership is valid in all The Sukhothai Bangkok restaurants during all normal hours of operation.
Dining benefits are not available for room service. They are also not applicable for beverages
(Unless otherwise stated), tax, service charges or tobacco.
There is no discount for items from the children's menu. Children under six years old will not be considered as diners.
The Sukhothai Platinum Membership cannot be used on certain holidays such as Christmas Day or New Year's Day or certain promotional days such as Valentine's Day, Mother's Day, Father's Day, Chinese New Year.
Only one (1) e-certificate or discount may be used per table, visit, party or bill.
For more information, please contact us at 02 344 8888 or email to sukhothaiplatinum@sukhothai.com